PERBEDAAN PERSEPSI MAHASISWA PROGRAM STUDI AKUNTANSI DAN MANAJEMEN TERHADAP KUALITAS LAYANAN JASA PENDIDIKAN DI UNIVERSITAS KATOLIK MUSI CHARITAS PALEMBANG
Keywords:
Perception, Quality of education service.
Abstract
The research is aim to observe consumer behavior regarding the perception of the
five dimensions of education quality including reliability, responsiveness,
assurance, empathy, and physical evidence from the Musi Charitas Catholic
University (MCCU). The purpose of the study is to prove whether there is a
difference in the perception of education qualityfrom the students in Management
and Accounting Study Program. Data collection techniques used is to spread the
5-point Likert questionnaire that is from very disagree until strongly agree.
Population in this research is active student, Batch 2015/2016 untilBatch
2016/2017 Management and Accounting Study Program. Based on the results of
the differences test using the Mann-Whitney test proved that the perception of
Accounting studentson the quality of education (Mdn = 2143) generaly difference
and significant with the students perception of Managementon the quality of
education in MCCU (Mdn = 2907) with significance 0.008 <0.05 (Ho is rejected).
If it is seen from each variable, then reliability, responsiveness, and
guaranteeprove the difference of perception between student of Accounting and
Management Study Program. While the variable of empathy and physical
evidence didn't prove the difference of perception between student of Accounting
and Management Study Program.
References
Ghozali, Imam. 2006. Aplikasi Analisis Multivariate dengan Program SPSS.
Cetakan IV. Universitas Diponegoro. Semarang.
Haryadi, Bambang, Soekarno, dan Llewelyn, Richard. 2005. Persepsi Kualitas
Pendidikan, Fasilitas, dan Staf Pengajar di Fakultas Ekonomi, Universitas
Kristen Petra, Surabaya
Ilyas, Imran. 2013. Pengaruh Persepsi Kualitas Pelayanan dan Persepsi Biaya
Pendidikan Terhadap Kepuasan dan Loyalitas Mahasiswa/i. STIE
Pembangunan Tanjung Pinang. Koleksi Perpustakaan Universitas
Terbuka, Program Pasca Sarjana UT, Jakarta
Kotler, Philip dan Armstong, Gary. 2008. Prinsip-Prinsip Pemasaran. Jilid 1.
Penerbit Erlangga, Jakarta.
Lovelock, C., dan L. Wright. 1990. Principles of Service Marketing and
Management. New Jersey. Pearson Education, Inc.
Munandir. 2002. "Pengaruh Bimbingan Belajar Terhadap Sikap, Minat, Motivasi,
dan Prestasi Belajar Siswa SMU di Kota Makassar". Jurnal Insani.
(2):21-29.
Munawaroh, Munjiati. 2005. Analisis Pengaruh Kualitas Jasa Terhadap Kepuasan
Pada Industri Pendidikan di Yogyakarta. Edisi Khusus JSB ON
Marketing
Owlia, M.S., dan E.M. Aspinwall. 1997. "TQM in higher education". Journal of
Quality and Reliability Management. 14(5): 47-59.
Parasuraman, Zeithaml, A.V. dan Berry L.L. (1985), 'A Conceptual Model of
Service Quality', Journal of Retailing, Vol.67:420-450
Sugiyono (2004). Metode Penelitian Bisnis. Alfabeta, CV. Bandung.
Robbins, Stephen P. 1998. Organizational Behavior.8th edition. New Jersey.
Prentice Hall
Schiffman, L.G., dan L.L. Kanuk. 2002. Consumer Behavior. 7th edition. New
Jersey. Prentice Hall.
Sekaran, Uma. 2016. Research Methods For Business (Metodologi Penelitian
untuk Bisnis). Buku 2. Edisi 4. Penerbit Salemba Empat. Jakarta.
Sulastiyono. 1999. Pengantar Ilmu Perpustakaan. PT. Gramedia Pustaka Utama.
Jakarta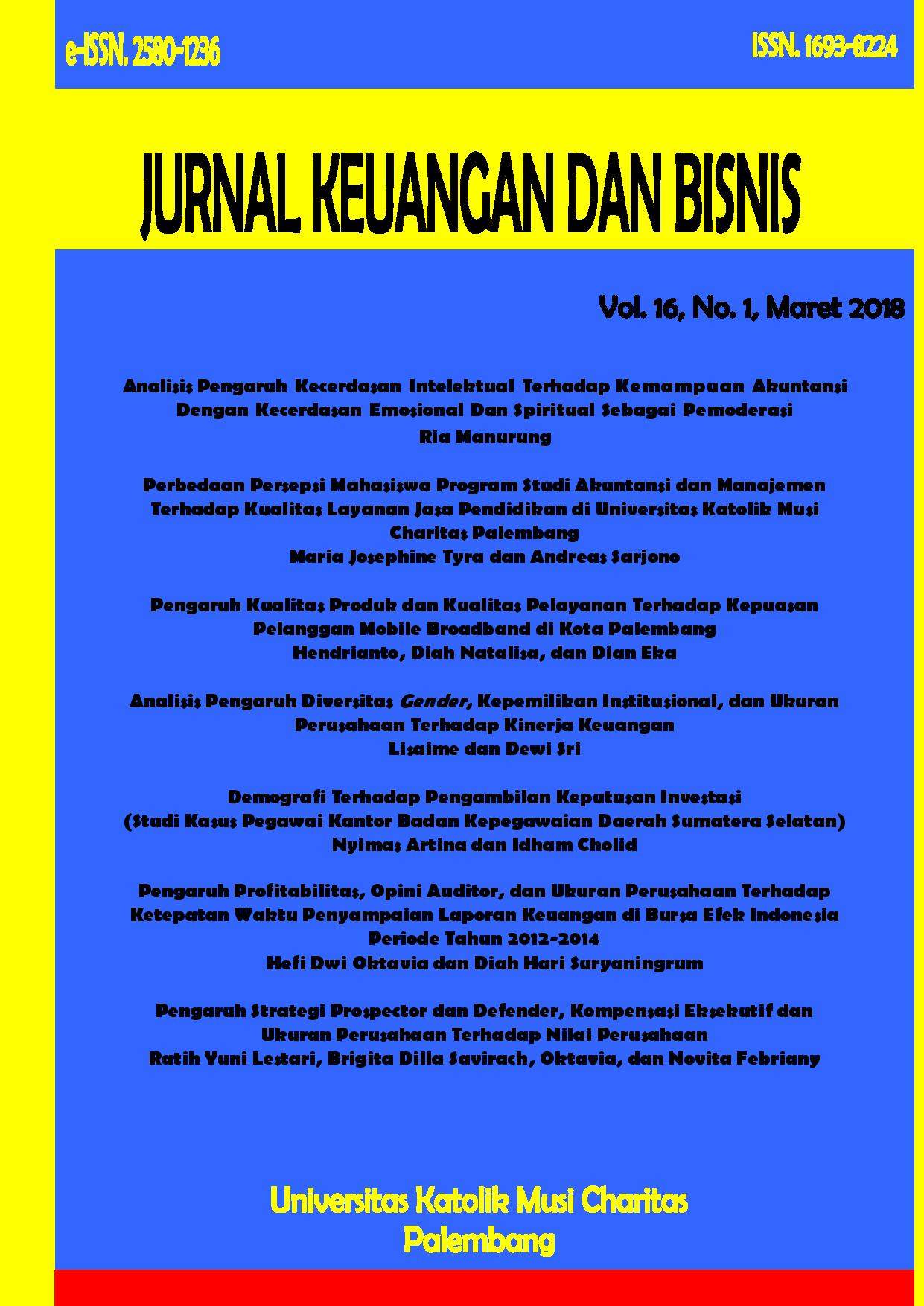 How to Cite
Josephine Tyra, M., & Sarjono, A. (2018). PERBEDAAN PERSEPSI MAHASISWA PROGRAM STUDI AKUNTANSI DAN MANAJEMEN TERHADAP KUALITAS LAYANAN JASA PENDIDIKAN DI UNIVERSITAS KATOLIK MUSI CHARITAS PALEMBANG. Jurnal Kesehatan Saelmakers PERDANA, 16(1), 17-42. https://doi.org/10.32524/jkb.v16i1.572