TAGUCI LOSE FUNCTION PADA UJI BEDA PROSES HARDBAIT PERBAIKAN SPRAY PAINTING
Keywords:
Taguchi, Paired sample t-test, fish bone
Abstract
Semakin detail proses pembuatan akan semakin mencapai operasional yang lebih konsisten dengan harapan dapat menghasilkan produk yang lebih baik sesuai dengan karakteristiknya. Penelitian ini menggunakan metode taguci dengan menunjukan bagian mana yang tidak bekerja secara maksimal dengan memperhatikan kualitas yang menyimpang dari target value sehingga dapat menekan biaya dan sumber seminimal mungkin. Metodologi Taguci dilakukan berdasarka pada rencana eksperimental Taguchi. Metodologi ini menjelaskan pentingnya kontrol kualitas yang akurat desain produk dan proses untuk memproduksi produk. Teknik pengambilan sample menggunakan Teknik purposing sampling diambil data dengan kriteria tertentu khusus produk hardbaid jalam jangka waktu tertentu waktu 07:00 WIB pada shift pertama pekerja departermen spray painting. Analisa dengan menghitung nilai kerugian dalam kualitas tanpa harus memperbarui suatu fungsi kualitas yang sesuai dengan karakteriktiknya.Fungsi kerugian kualitas produk dalam dilakukan dengan menggunakan perhitungan Taguchi Loss. Kasus setelah perbaikan diperoleh Rp. 11.927,00/pcs. Jadi selisih rata-rata peningkatan rata-rata sebelum dan sesudah Rp 5.389/Psc.Pada uji paired sample t test adanya perbedaan sebelum dan setelah perbaikan. Selanjutnya akan dilakukan uji hubungan dengan melihat hasil output paired kolerasi menghasilkan tidak ada hubungan sebelum dan setelah perbaikan.
References
M. M. Manullang, "Analisis Pengukuran Produktivitas dengan Menggunakan Metode Mundel dan APC di PT X," J. Optimasi Tek. Ind., vol. 2, no. 1, p. 1, 2020, doi: 10.30998/joti.v2i1.3847.
M. Musabbikhah, H. Saptoadi, S. Subarmono, and M. A. Wibisono, "OPTIMASI PROSES PEMBUATAN BRIKET BIOMASSA MENGGUNAKAN METODE TAGUCHI GUNA MEMENUHI KEBUTUHAN BAHAN BAKAR ALTERNATIF YANG RAMAH LINGKUNGAN (Optimization of Biomass Briquettes Production Process Using Taguchi Method)," J. Mns. dan Lingkung., vol. 22, no. 1, p. 121, 2015, doi: 10.22146/jml.18733.
E. Ar?c?, E. Çelik, and O. Kele?temur, "An analysis of the engineering properties of mortars containing corn cob ash and polypropylene fiber using the Taguchi and Taguchi-based Grey Relational Analysis methods," Case Stud. Constr. Mater., vol. 15, 2021, doi: 10.1016/j.cscm.2021.e00652.
F. Zhang, M. Wang, and M. Yang, "Successful application of the Taguchi method to simulated soil erosion experiments at the slope scale under various conditions," Catena, vol. 196, 2021, doi: 10.1016/j.catena.2020.104835.
P. Sidi and M. Wahyudi, "Aplikasi Metoda Taguchi Untuk Mengetahui Optimasi Kebulatan Pada Proses Bubut Cnc," Rekayasa Mesin, vol. 4, no. 2, pp. pp.101–108, 2013.
A. Arifuddin and H. Pangaribuan, "Pengaruh Terapi Kelompok Terapeutik Terhadap Peningkatan Perkembangan Psikososial Dan Emosi Anak Remaja," Madago Nurs. J., vol. 2, no. 1, pp. 15–21, 2021, doi: 10.33860/mnj.v2i1.440.
C. Montolalu and Y. Langi, "Pengaruh Pelatihan Dasar Komputer dan Teknologi Informasi bagi Guru-Guru dengan Uji-T Berpasangan (Paired Sample T-Test)," d'CARTESIAN, vol. 7, no. 1, p. 44, 2018, doi: 10.35799/dc.7.1.2018.20113.
A. Sánchez Comas, A. Troncoso Palacio, S. Troncoso Mendoza, and D. Neira Rodado, "Application of taguchi experimental design for identication of factors influence over 3D printing time with fused deposition modeling," Int. J. Manag. Sci. Oper. Res., vol. 1, no. 1, pp. 43–48, 2016, doi: 10.17981/ijmsor.01.01.06.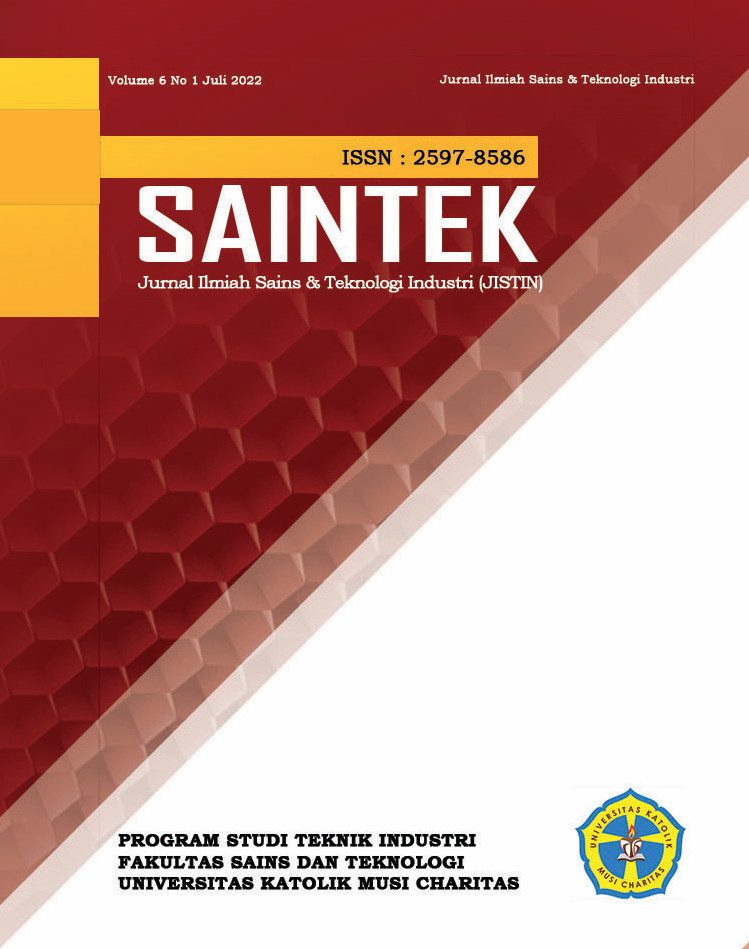 Downloads
License
Copyright (c) 2022 Elva Susanti, Citra Indah Asmarawati, Rizki Prakasa Hasibuan, Ganda Sirait, Arsyad Sumantika, Welly Sugianto, Anggia Arista, Elsya P.L Tarigan
This work is licensed under a Creative Commons Attribution 4.0 International License.