PENGARUH PROFITABILITAS, OPINI AUDITOR, DAN UKURAN PERUSAHAAN TERHADAP KETEPATAN WAKTU PENYAMPAIAN LAPORAN KEUANGAN di BURSA EFEK INDONESIA PERIODE TAHUN 2012-2014
Keywords:
Profitability, Auditors' Opinion, Firm Size and Timeliness
Abstract
Financial reporting is a source of information that can be used for
business decision making. The faster the financial statements are conveyed, the
information contained therein is more useful, and users of financial statements
can make better decisions, both in terms of quality and time. But in reality some
companies still get sanctions for delays in financial reporting. Therefore, this
study aims to examine and prove empirically the factors that cause delays in
reporting, namely profitability, auditors' opinion, and company size. The
population of this study is food and beverages companies listed on the Indonesia
Stock Exchange for the period 2012-2014, with a sample of 12 companies with the
observation period of 2012 to 2014. The sampling method used was purposive
sampling. The analytical method used is Logistic Regression. The data used in
this study are the financial statements and independent audit reports of each
published company. The results of the study prove that the factors of profitability,
auditors' opinion, and company size do not affect the timeliness of the submission
of financial statements. This implies that the company's awareness to submit
financial statements is caused by other conditional conditions that were not
examined in this study.
References
Anonim. 2015. Pedoman Penyusunan Penelitian dan Skripsi Jurusan Akuntansi.
Fakultas Ekonomi UPN "Veteran" Jawa Timur.
Badan Pengawas Pasar Modal dan Lembaga Keuangan. 2015.
http:://ptba.co.id/uploads/perarturanBapepamdanLK X.K.6 1 agustus
tentang penyampaianlaporantahunan.pdf. Diakses: 15 Desember
Fagbemi, Temitope Olimpiade and Olayinka Marte Uadiale. 2011. "An Appraisal
of the Determinants of Timeliness of Audit Report in Nigeria: Evidence
From Selectes Quoted Companies". Bussiness Intelligence Journal. New
Orleans International Academic Conference.
Fahmi, Irham. 2011. Analisis Laporan Keuangan. Penerbit Alfabeta. Bandung.
Godfrey,J, Hodgson, A., Tarca, A., Hamilton, J., & Holmes, S. 2010. Accounting
Theory, 7th Edition. Australia.
Hedy Kuswanto dan Sodikin Manaf. 2015. "Faktor-Faktor Yang Mempengaruhi
Ketepatan Waktu Penyampaian Laporan Keuangan Ke Publik (Studi
Empiris Pada perusahaan Manufaktur Yang Terdaftar di Bursa Efek
Indonesia Periode 2010-2013". Jurnal Ekonomi Manajemen Akuntansi Vol.
, No.36. http://ejurnal.stiedharmaputrasmg.ac.id/index.php/JEMA/article/view/212.
Ikatan Akuntansi Indonesia (IAI). 2012. Standar Akuntansi Keuangan per 1 Juli
Salemba Empat: Jakarta.
Indonesia Stock Exchange. 2012. www.idx.co.id. Bursa Efek Indonesia. Diakses:
Desember 2015.
Institut Akuntan Publik Indonesia. 2011. Standar Profesional Akuntan Publik Per
Maret 2011. Salemba Empat: Jakarta.
Iyoha, F.O. 2012. "Company Attributes and The Timeliness of Financial
Reporting in Nigeria". Business Intelligence Journal.
Kasmir. 2010. Analisis aporan Keuangan. PT. Raja Grafindo: Jakarta.
Kieso, Weygandt, dan Warfield. 2011. Intermediate Accounting IFRS Edision.
Volume 1. Wilay: United States of America.
Leonarda Rena Mariska dan Fitriany. 2014. "Pengaruh Perubahan Opini Audit
dan Laba Tak Terduga Terhadap Ketepatan Waktu Penyampaian Laporan
Keuangan: Studi Empiris Pada Perusahaan dalam Industri Keuangan".
Jurnal Siposium Nasional Akuntansi XVII Mataram. Ikatan Akuntansi
Indonesia.
Mareta, Sigit. 2015. "Analisis Faktor-Faktor yang Mempengaruhi Timeliness
Publikasi Laporan Keuangan Periode 2009-2010 (Studi Empiris pada Bursa
Efek Indonesia)". Jurnal Akuntansi Vol. 19, No.1, Hal 93-108.
Melani, Agustina.2015. http://bisnis.liputan6.com/read/21608
Pujiati, Diyah. 2015. Stie Perbanas.
Riyanto, Bambang. 2010. Dasar-Dasar Pembelanjaan Perusahaan. BPFE:
Yogyakarta.
Subramanyam, K. R. dan J. J. Wild. 2010. Analisa Laporan Keuangan. Salemba
Empat: Jakarta.
Sugiyono. 2010. Metode Penelitian Kuantitatif, Kualitatif dan R&D. Alfabeta:
Bandung.
Tuannakota, Theodorus M. 2013. Mendeteksi Manipulasi Laporan Keuangan.
Lembaga Penerbit Salemba Empat: Jakarta.
Yan Christin Br. Sembiring dan Arifin Akhmad. 2012. "Analisis Faktor-Faktor
Yang Berpengaruh Terhadap Ketepatan Waktu Pelaporan Keuangan Pada
Perusahaan Perkebunan dan Pertambangan Yang Terdaftar di BEI". Jurnal
Ekonomi, Vol 15, No 4.
Yusralaini, Restu Agusti dan Livia Dara. 2010. "Analisis Faktor-Faktor Yang
Mempengaruhi Ketepatan Waktu Penyampaian Laporan Keuangan Ke
Publik Pada Perusahaan Yang Terdaftar di BEI 2005-2007". Jurnal
Ekonomi, Volume 18, Nomor 2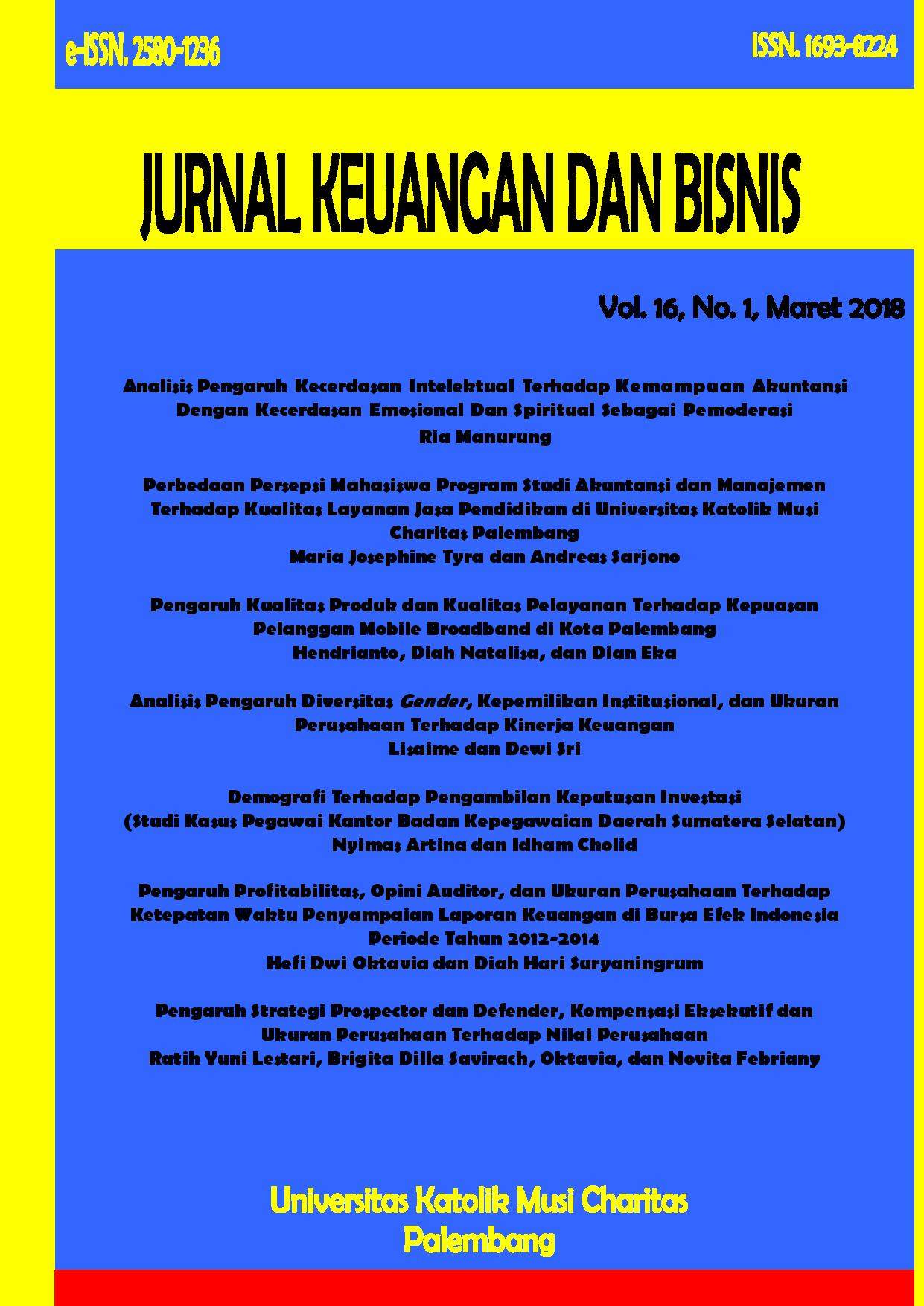 Downloads