PERAN WORK INVOLVEMENT TEHADAP SELF EFFICACY PELAKU USAHA MIKRO DI PALEMBANG
Keywords:
Job involvement, self-efficacy
Abstract
This study examines and analyzes the role of working involvement in the self-efficacy of micro-entrepreneurs in Palembang. The respondents were micro-entrepreneurs in Palembang. Quantitative and qualitative analyses were analysis techniques used in this empirical study. Convenience was the sampling technique used in this study. Validity, reliability, classic assumption, and simple linear regression tests were employed to analyze the data. The results show that working involvement has a significant effect on self-efficacy and it is expected to be useful for increasing the micro-entrepreneurs' success. This study is a source of information for future researchers in conducting similar research by combining other variables out of the variables that have been studied.
References
Imam Ghozali. 2011. Aplikasi Analisis Multivariate dengan Program IBM SPSS 19. Badan Penerbit Universitas Diponegoro. Semarang.
Marbun, B.N. 1997. Manajemen Perusahaan Kecil. PT Pustaka Binaman Pressindo. Jakarta.
Bangun, Wilson, 2012. Manajemen Sumber Daya Manusia, Erlangga, Jakarta.
Kasmir, 2016, Manajemen Sumber Daya Manusia (Teori dan Praktek), Rajawali Pers, Jakarta.
Mas'ud,Fuad.,2004, survai diagnosis organisasional konsep & aplikasi,UNDIP, Semarang
Puspowarsito., 2008, Metode Penelitian Organisasi Dengan Aplikasi Program SPSS, Humaniora, cetakan ke 3, Bandung
Suparyadi,2017, Manajemen Sumber Daya Manusia Mencapai Keunggulan Bersaing Berbasis Kompetensi SDM, Andi, Yogyakarta.
Jogiyanto. 2007. "Sistem Informasi Keperilakuan". Andi. Yogyakarta.
Mathis, Robert L., dan Jackson, John H., 2006, Manajemen Sumber Daya Manusia, Salemba Empat, Jakarta.
Rivai, Veithzal, 2011, Manajemen SDM untuk perusahaan teori ke praktik, Rajagrafindo, cetakan ke 3, Jakarta.
Robbins, Stephen P.,.2008, Perilaku Organisasi, Edisi XII, Prehalindo, Salemba Empat, Jakarta.
Retno Purnomo dan Sri Lestari yang berjudul : pengaruh kepribadian, self efficacy, dan Locus of control terhadap persepsi kinerja usaha skala kecil dan menengah di Banyumas bahwa hasil penelitian mempunyai pengaruh yang positif dan signifikan. (Jurnal Bisnis dan Ekonomi,vol.17,no.2,September2010,hal.97-201,ISSN:1412-3126, http//www.unisbank.ac.id/ojs/index.php/fe3/article/view/333).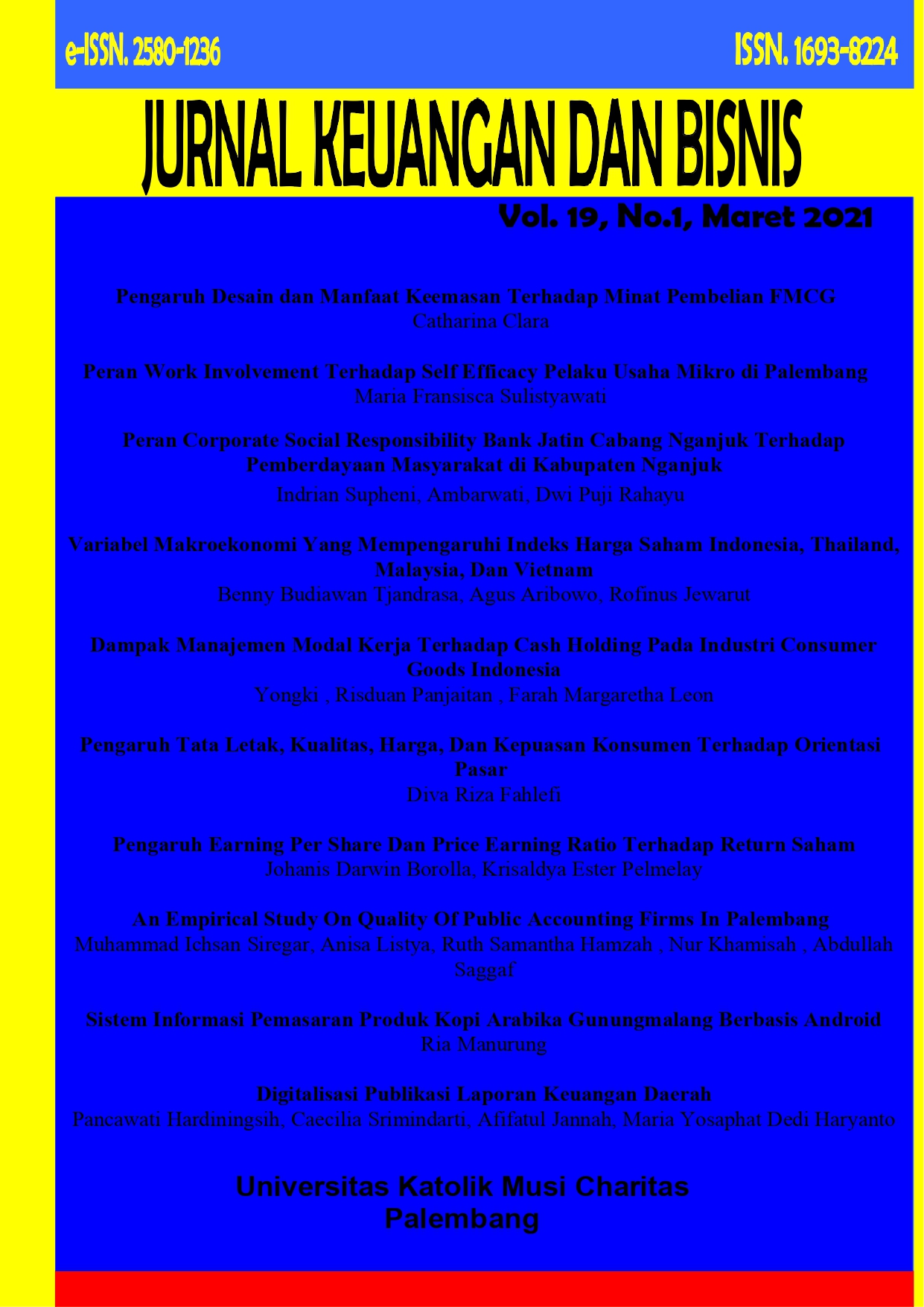 Downloads