Peran Kompetensi Serta Efikasi Diri Pada Prestasi Kerja Pegawai Tetap Teller Bank di Palembang
Keywords:
Keywords : Competence, Self-Efficacy, Employee Performance
Abstract
The purpose of this study was to determine and examine the effect of the competence variable (X1) and self-efficacy variable (X2) on the performance variable (Y) of bank teller employees in Palembang. The sample of this research respondent is specifically for permanent employees of bank tellers who work in Palembang. The data used are primary data and secondary data. The sampling technique used in this research is the convenience method. The convenience method is that every permanent employee of a bank teller in Palembang has the same opportunity and is willing to fill out or choose an answer from the statement submitted in the questionnaire. Data analysis techniques used include: validity test, reliability test, and classical assumption test. Hypothesis testing using multiple linear regression analysis using SPSS 26 for windows program. The results of the study stated that the competence variable (X1) and self-efficacy variable (X2) had a positive and significant effect on the performance of bank teller employees in Palembang.
References
DAFTAR PUSTAKA
Aprilia, Ciptaning, 2020, inilah 10 Bank Pemilik Aset Terbesar Indonesia 2020, Tren Asia (online). (https://www.trenasia.com/inilah-10-bank-aset- terbesar-indonesia-2020/). Diakses pada tanggal 16 Januari 2020.
Annisa, P, S & Alini, G. 2018. Pengaruh Kompetensi Terhadap Kinerja Karyawan (Studi Di Pt. Telekomunikasi Indonesia Tbk Witel Bandung). Jurnal Riset Bisnis dan Manajemen. Volume VIII No. 1.
Ardanti, D. M., & Rahardja, E. 2017. Pengaruh Pelatihan, Efikasi Diri dan Keterikatan Karyawan Terhadap Kinerja Karyawan ( Studi pada Patra Semarang Hotel & Convention ) This study aims to investigate the effect of training, selfefficacy, and employee engagement on employee performance a, 6, 1–11.
Azwar, Anas. 2020. Teller Bank Swasta di Palembang Gelapkan Uang Nasabah Rp1,4 Miliar. Sumsel Update (online). (https://sumselupdate.com/teller- bank-swasta-di-palembang-gelapkan-uang-nasabah-rp14-miliar/).Diakses pada tanggal 17 Januari 2020.
Bandura. A. 2010. "Self Efficacy Mechanism in Psychological and Health Promoting Behavior", Prentice Hall, New Jersey.
Busro, Muhammad, 2017, Manajemen Sumber Daya Manusia, Yogyakarta ,Expert
Ghozali, Imam. 2011. Aplikasi Analisis Multivariate dengan Program SPSS. Universitas Diponegoro. Semarang.
Lucia, Selvi, 2021, Pengaruh Efikasi Diri dan Kompetensi Terhadap Kinerja Karyawan, Skripsi, UKMC, Palembang.
Mukrodi, 2018. Pengaruh Efikasi Diri Terhadap Kinerja Karyawan Pt Express Kencana Lestari (Express Group) Depok, Jurnal Ilmiah. Vol. 6 No. 1.
Moeheriono. 2012. Pengukuran Kinerja Berbasis Kompetensi, Jakarta, PT Raja Grafindo Persada.
Puspowarsito, 2008, Metode Penelitian Organisasi Dengan Aplikasi Program SPSS, Bandung, Humaniora.
Robbins, 2015, Perilaku Organisasi, Yogyakarta, ,Expert
Sujarweni, Wiratna, 2014, Metodologi Penelitian – Bisnis & Ekonomi, Yogyakarta,
: Pustakabarupres.
Sarwono, Jonathan, 2006, Analisis Data Penelitian Menggunakan SPSS, Yogyakarta,
Andi Offset.
Zulkifli, Zaini. 2014. Mengelola Kualitas Layanan Perbankan. Jakarta, PT.Gramedia Pustaka Utama.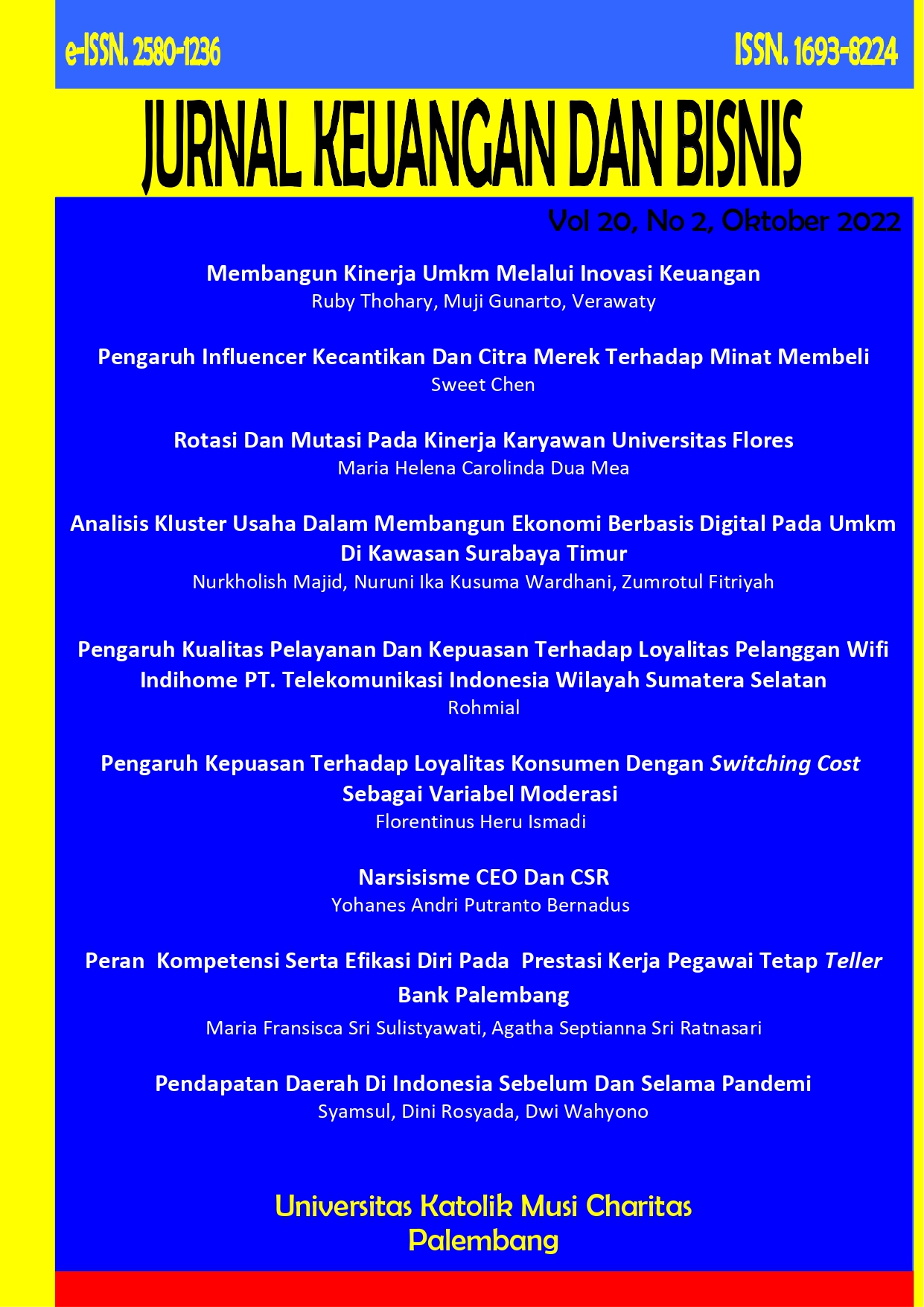 Downloads