Pengaruh Influencer Kecantikan Dan Citra Merek Terhadap Minat Membeli
Keywords:
Influencer Kecantikan; Sosial Media; Niat Beli Konsumen
Abstract
Penelitian ini bertujuan untuk mengetahui dampak influencer kecantikan pada pemasaran digital terhadap niat beli konsumen. Teknik pengumpulan data pada penelitian ini adalah data primer yang diperoleh dari penyebaran kuesioner. Metode pengambilan sampel menggunakan metode purposive sampling, adapun jumlah sampel terpilih pada penelitian sebanyak 431 responden yang merupakan masyarakat Kota Batam yang menggunakan sosial media dan pernah menonton ulasan influencer kecantikan. Metode analisis yang digunakan adalah metode analisis deskriptif, uji validitas dan reabilitas, uji asumsi klasik, uji regresi linier berganda dan uji hipotesis menggunakan aplikasi SPSS 26. Temuan penelitian berdasarkan hasil uji menunjukkan bahwa  variabel kredibilitas, kepercayaan, afektif, keaslian, influencer kecantikan, serta citra merek memiliki pengaruh positif signifikan dengan keputusan niat beli konsumen, serta variabel yang berpengaruh besar pada keputusan niat beli adalah variabel citra merek.
References
Anshori, M., & Iswati, S. (2019). Metodologi penelitian kuantitatif: edisi 1. Airlangga University Press.
Dewa, C. B., & Safitri, L. A. (2021). Pemanfaatan Media Sosial Tiktok Sebagai Media Promosi Industri Kuliner Di Yogyakarta Pada Masa Pandemi Covid-19 (Studi Kasus Akun TikTok Javafoodie). Khasanah Ilmu-Jurnal Pariwisata Dan Budaya, 12(1), 65–71.
Ghozali, I. (2016). Aplikasi Analisis multivariete dengan program IBM SPSS 23 (Edisi 8). Cetakan Ke VIII. Semarang: Badan Penerbit Universitas Diponegoro, 96.
Hair Jr, J. F. (2010). Multivariate Data Analysis Joseph F. Hair Jr. William C. Black Barry J. Babin Rolph E. Anderson Seventh Edition.
Jannat, S. (2018). Influence of video bloggers on purchase intention of beauty products. University of Greenwich.
Kemp, S. (2021). Special reports Digital 2021: the latest insights into the 'state of digital.'
Kim, D. Y., & Kim, H.-Y. (2021). Trust me, trust me not: A nuanced view of influencer marketing on social media. Journal of Business Research, 134, 223–232.
Kim, J.-H., Song, H., & Youn, H. (2020). The chain of effects from authenticity cues to purchase intention: The role of emotions and restaurant image. International Journal of Hospitality Management, 85, 102354.
Lee, J. A., & Eastin, M. S. (2020). I like what she's# endorsing: The impact of female social media influencers' perceived sincerity, consumer envy, and product type. Journal of Interactive Advertising, 20(1), 76–91.
Lim, K. Y., Maysoon Hanaa, M., Wong, C. H., Ng, A., Hong, H., & Tan, O. K. (2019). Social Media Factors and Purchase Intention of Beauty Products in Mauritius. INTI JOURNAL, 2019(44).
Manan, H. A., Ariffin, S., Maknu, T. S. R., & Zakaria, F. N. (2020). Effects of social media advertisements on intention to purchase health and beauty products. Journal of International Business, Economics and Entrepreneurship, 5(1), 59–68.
Nurhandayani, A., Syarief, R., & Najib, M. (2019). The impact of social media influencer and brand images to purchase intention. Jurnal Aplikasi Manajemen, 17(4), 650–661.
Priyatno, D. (2013). Mandiri belajar analisis data dengan SPSS. Yogyakarta.
Putri, F. E. V. S., & Tiarawati, M. (2021). The Effect of Social Media Influencer and Brand Image On Online Purchase Intention During The Covid-19 Pandemic. Ilomata International Journal of Management, 2(3), 163–171.
Roflin, E., & Liberty, I. A. (2021). Populasi, Sampel, Variabel dalam Penelitian Kedokteran. Penerbit NEM. Pekalongan, Jawa Tengah.
Rosara, N. A., & Luthfia, A. (2020). Factors influencing consumer's purchase intention on beauty products in youtube. Journal of Distribution Science, 18(6), 37–46. https://doi.org/10.15722/jds.18.6.202006.37
Siwaporn, L. (2021). The Study Of Factors Influence Consumer's Purchase Intention In Retail Specialty Store: A Case Study Of Boots Retail Thailand Ltd. Mahidol University, Thailand.
Sokolova, K., & Kefi, H. (2020). Instagram and YouTube bloggers promote it, why should I buy? How credibility and parasocial interaction influence purchase intentions. Journal of Retailing and Consumer Services, 53, 101742.
Tran, V., & Nguyen, H. (2020). Consumer attitudes towards beauty bloggers and paid blog advertisements on purchase intention in Vietnam. Management Science Letters, 10(5), 1017–1026.
Wood, R. (2021). 'What I'm not gonna buy': Algorithmic culture jamming and anti-consumer politics on YouTube. New Media & Society, 23(9), 2754–2772.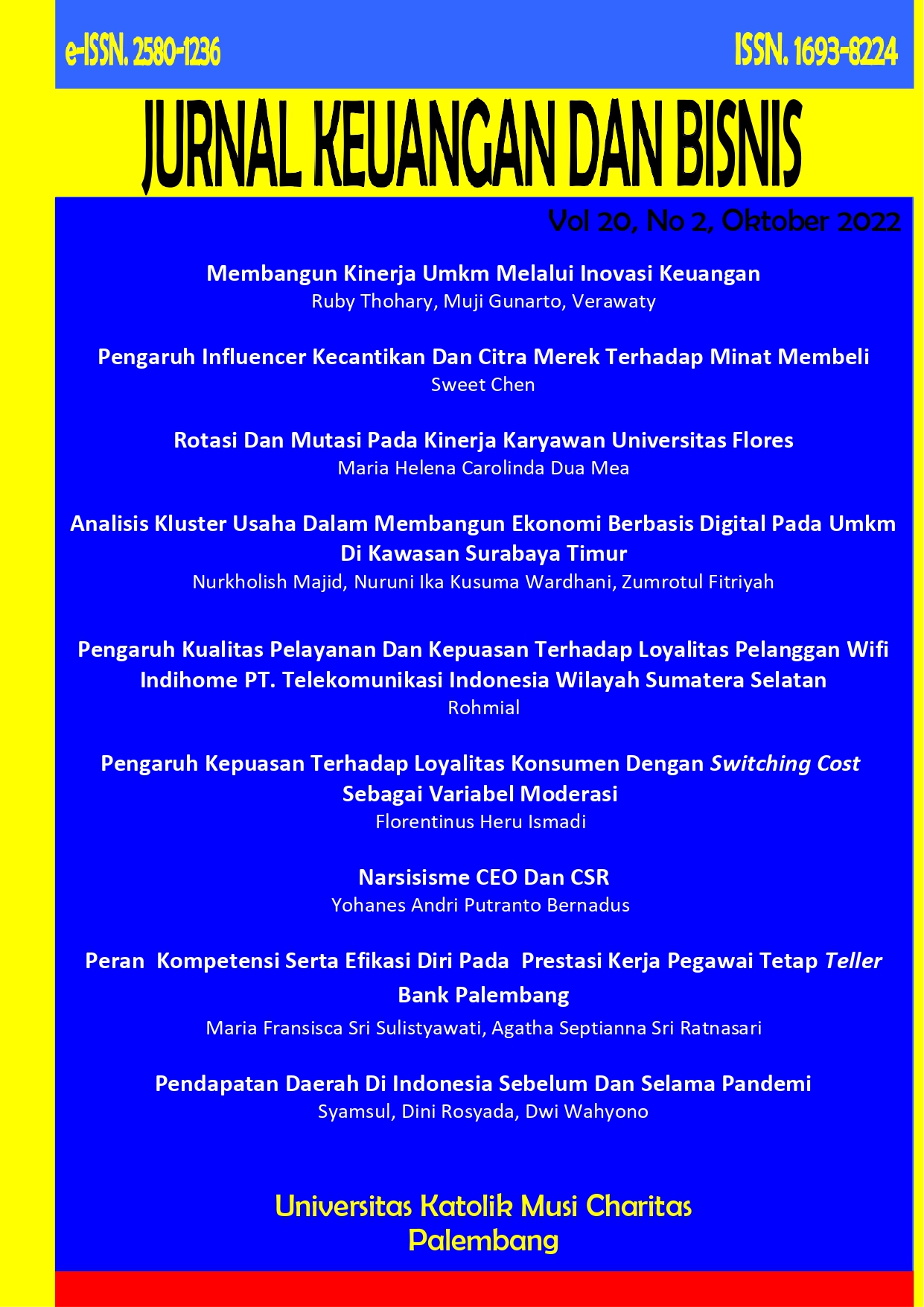 Downloads