PRAKTIK BAHASA INGGRIS KONTEKSTUAL SERTA MANAJEMEN STRES PADA PEMBELAJARAN TATAP MUKA ERA KENORMALAN BARU
Keywords:
Contextual English, Management, Stress
Abstract
The initial process of face-to-face learning that occurs at the beginning of the school year requires adequate preparation both physically and mentally for students. Not infrequently the initial process causes stress and eventually triggers conflict, both between individuals and groups. On the other hand, learning must continue and the competency of the predetermined subject does not experience problems in being delivered. The purpose of this PKM activity is to integrate 2 materials in one flow of activity: stress management with one of the lessons, namely English. Activities are scheduled in 4 meetings with seminary students in Rethorica A and B classes as participants. Total participants were 33 people. The results of the activity showed positive results and responses from all participants which were shown from the pretest and posttest scores and the feedback questionnaire. The experience of learning contextual English and awareness of the causes and effects of stress can provide meaningful input from the learning process and self-management for prospective priests.
References
Anju, Amandeep, Punia, B.K., & Punia, V. (2021).
Life dissatisfaction among students:
exploring the role of intrapersonal
conflict, insufficient efforts and academic
stress. Rajagiri Management Journal.
https://10.1108/RAMJ-09-2020-0058.
Banerjee, I., Lambert, J. M., Copeland, B. A.,
Paranczak, J. L., Bailey, K. M., &
Standish, C. M. (2022). Extending
functional communication training to
multiple language contexts in bilingual
learners with challenging behavior.
Journal of Applied Behavior Analysis,
(1), 80-100.
https://komunio.id/2022/07/11/berita-terkininasional-mempersiapkan-imam-imamera-peradaban-digital/Ertürk, R. (2022).
Conflict in schools: A qualitative study.
Participatory Educational Research, 9(1),
-270.
Huang, N., Qiu, S., Alizadeh, A., & Wu, H.
(2020). How incivility and academic tress
influence psychological health among
college students: The moderating role of
gratitude. International Journal of
Environmental Research and Public
Health, 17(9), 3237,
https://doi.org/10.3390/ijerph1709323.
Josep, J. E., Etcuban, J. O., Paez, J. C., Jaca, C.
A. L., Aventuna, M., & Horteza, A.
(2020). Improving workrelated outcomes in educational contexts.
International Journal of Education and
Practice, 8(2), 309-322.
https://www.hidupkatolik.com/2022/07/05/622
/seminari-menengah-st-paulusjawaban-bagi-kebutuhan-imamsumbagsel.php
Pranoto, Y. H, & Awalistyo, A. D. (April 10,
. OPINI: Guru profesional pasca
% online. Media Sriwijaya.
https://mediasriwijaya.com/opini-guruprofesional-pasca-100-online/
Pranoto, Y.H., Inharjanto, A., Ratnaningsih,
P.W., Clara, C., Leovani, E. (2021).
Pendampingan pembelajaran jarak jauh
dan pelatihan Google Classroom pada
materi paragraph writing. Jurnal
Masyarakat Mandiri, 5(3), 979-993.
https://doi.org/10.31764/jmm.v5i3
Rinawati, K. (2022, April 26). 75 tahun Seminari
Menengah St. Paulus Palembang:
Wartakanlah Kristus yang bangkit!
Komunio.https://komunio.id/2022/04/26/
berita-terkini-nasional-75-tahun seminarimenengah-st-paulus-palembangwartakanlah-kristus-yang-bangkit/
Rinawati, K. (2022, July 5). Romo Petrus
Sugiarto, SCJ: Era digital yang menggerus
seminari. HIDUP.
https://www.hidupkatolik.com/2022/07/0
/62292/romo-petrus-sugiarto-scj-eradigital-yang-menggerus-seminari.php
Soonthodu, S., & Rao, N. G. (2021). Perception
of working online versus offline among
academic professionals. International
Online Journal of Education and
Teaching, 8(1), 94-107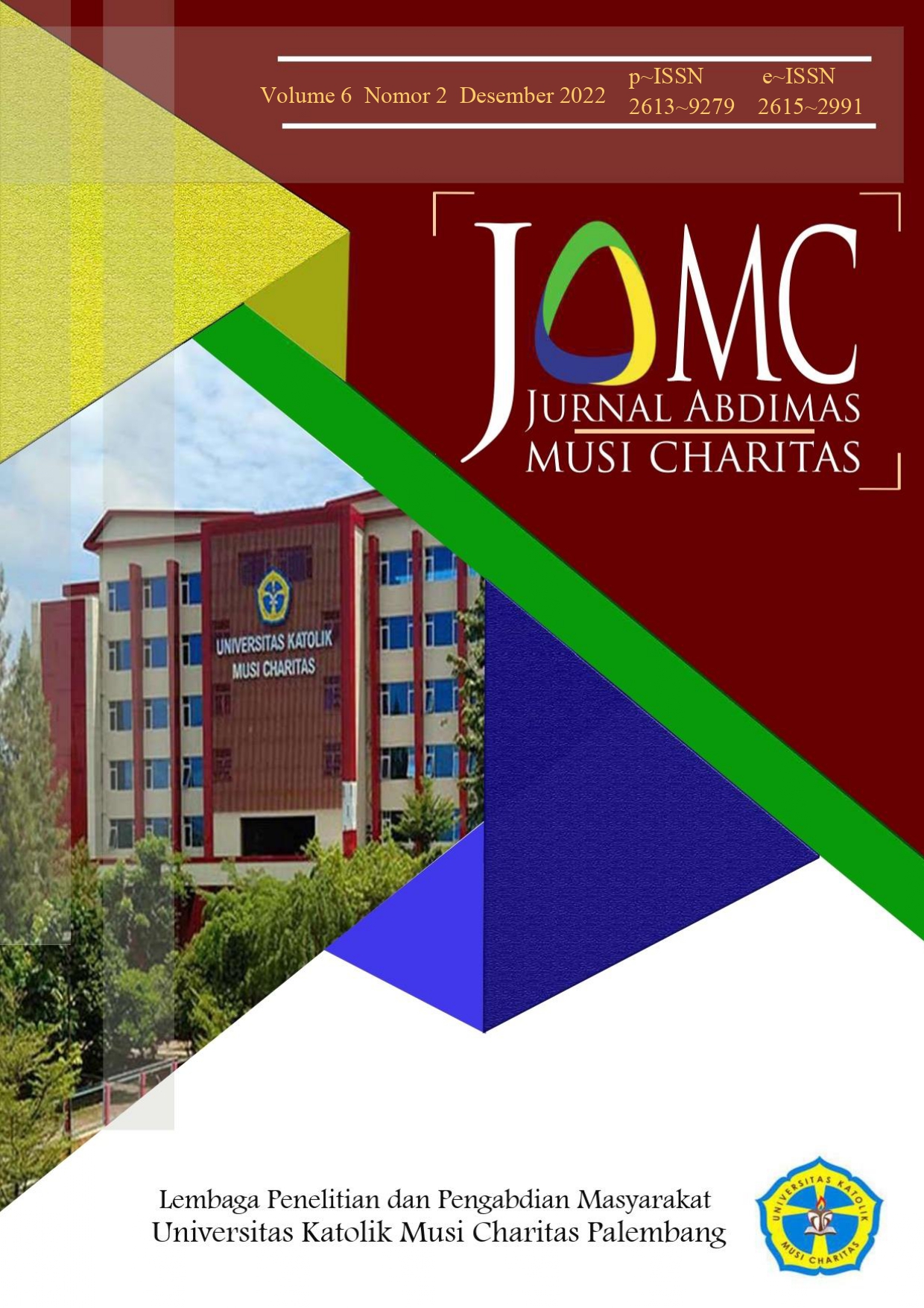 Downloads